From our Employment Partner, Australia's leading online employment marketplace SEEK
In 1997, working from a garage in Melbourne's St Kilda, Andrew Bassat, Paul Bassat and Matt Rockman saw the potential of the internet to better deliver opportunities to Aussie workers and businesses.
At the time, just 19% of Australian households were online – but things were about to transform. In March 1998, 7,000 job ads were posted on a brand-new website at seek.com.au, and the Australian employment market was forever changed.
In the 25 years since, Australians have weathered a global financial crisis, multiple natural disasters and the COVID-19 pandemic, leading to great change in the way we work, live and plan for our futures.
What's more, there has been the adoption of the internet and social media, wireless technology and AI, a growing population and domestic business landscape that is increasingly online, plus the introduction of new multinational corporations to our shores. These changes have greatly altered our working lives – from the fundamentals of how and when we commute, and where and when we work, to the practical details of work life, including desk essentials, work wardrobes and perks.
As the market leading employment marketplace in ANZ and across all six markets in Asia, SEEK has been both an instigator of some of this change, and in a front row seat to the impacts the changing world is having on worker attitudes and business policy.
The following report provides a snapshot of some of the 25 biggest changes in the Australian labour market from the past 25 years. In retrospect, the evolution of our working lives can seem both astonishing in its breadth (was the average retirement age really 41 for women only 25 years ago?) and surprising in how little has changed (at this pace, we will only reach gender pay parity by the late 2040s).
Looking ahead, SEEK is buoyed by the possibilities of the next 25 years in Australia's vast employment landscape – and looks forward to delivering on its Purpose of helping people live more fulfilling and productive working lives and helping organisations succeed.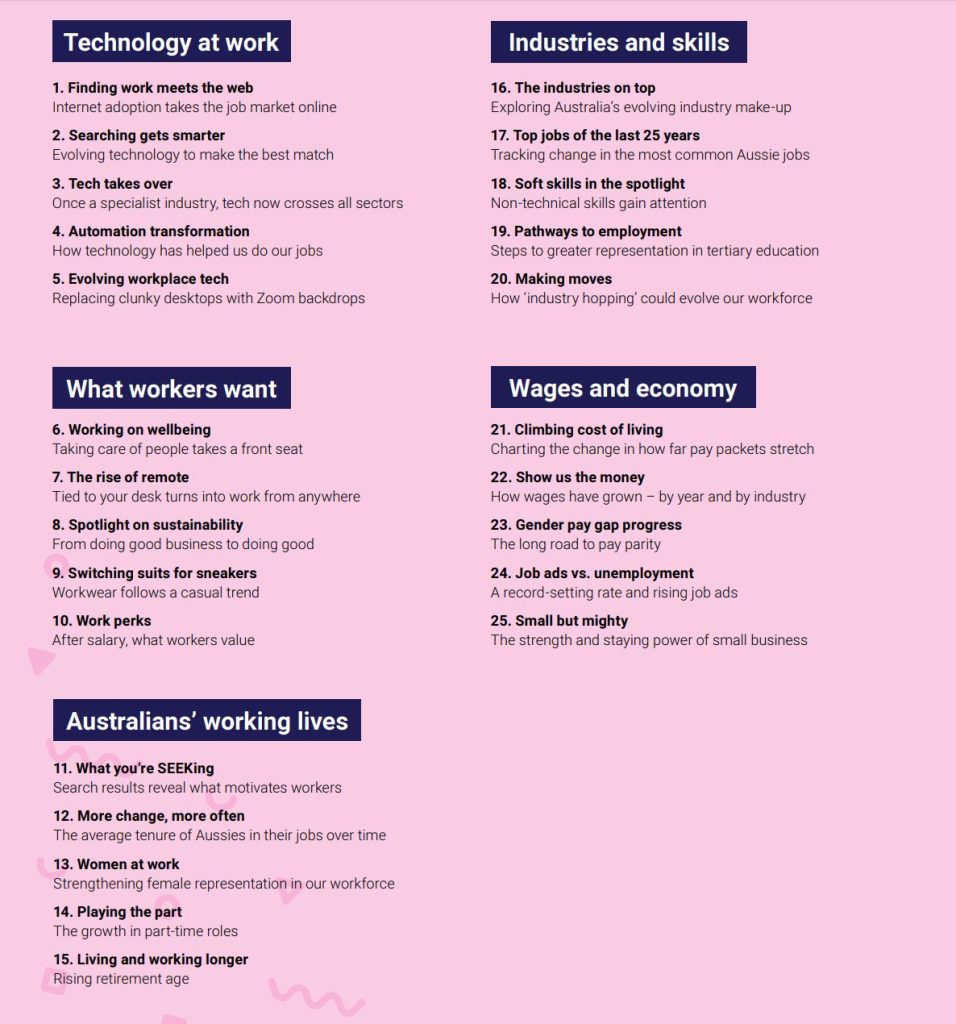 Find the full report here